Blog image: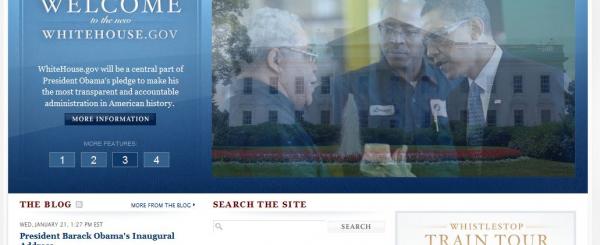 Why is dynamic content important to you and your business. Essentially your business changes and the information presented to your prospective customers, current customers and employees must change as well. Any type of content can be sorted under specified criteria and presented with specified display.
What are examples of content you might want to present? Suppose you have an eCommerce web site and you want to present products you have in inventory. Another example could be presenting specific products depending on holidays and seasons. Or, a customer chooses a product and other products related would appear enticing more purchases. Uses of Drupal's views module are boundless..
The image above is a familiar web site. The official White House web site is a very proud Drupal Content Management System. The snapshot of the web site show a phase from one picture to the next. And, the user can flip through the pictures instead of waiting for a predefined slide show. What was used to create this 'slider' display? Drupal's Views Module.
Notice the pictures are a particular content type. The example above, products with descriptions, photos and prices are a different content type. Hence, you can define content types for the display you want to sort. Creating a view and deciding on a content type, choices are made on how you want to display your content type. What exactly am I saying?
Let's say you chose for your content type a photo, a drop-down box, text box and on and on... You can decide on how your content is contained. You can present your content as a page, a block and a RSS feed too. Why would you want a block of content. You can build your page with multiple blocks some of which may be other views. You have a very powerful web page with an dynamic variety of content.
Lastly, in configuring your View, criteria is set to present the content you want users to see. Criteria may be products for the fall season within a specific price range and assortment of colors. The combinations are limitless and can be taught easily. No more SQL programming, View Module does it for you.